Oh hai. You want some tweaks? I got some tweaks!
Note: This is just for fun and stuff, so I don't much care if you use these in your own mod bundles or whatever, so long as you link back to this thread when you post your mod. And really, I only want that so people can request things from me, which would probably benefit you, since they won't be bugging you about it.
I also don't really care if you edit anything I've done, though it would be appreciated if you'd ask me if I can edit it how you want first, for the sake of consistency of appearance. Otherwise, you're free to use the graphics here however you like. Towns devs are welcome to take anything they want to make official. No issues there.
Anything I have finished can be found in
this Photobucket album
because Dropbox hates me.
Currently in there I have a new version of the glass wall. It is smooth~! Mesh-free! It DOES take up a little more file space, so DO keep that in mind. I personally haven't noticed any change in how my Towns game runs, but my computer is kind of crappy. I might not notice any difference since I already get lag spikes.
This is what it looks like: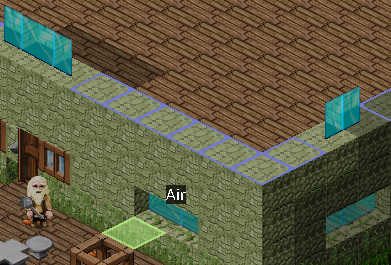 **Note to fellow modders: Were you wondering about that translucency tag?
Someone said it allows light through. I can confirm that. But also, something else that's kind of cool...you can't see it with the original glass wall, but if you look close at the screen shot of MY glass wall, you can actually see a slightly distorted reflection of the wood blocks behind it! :O
New version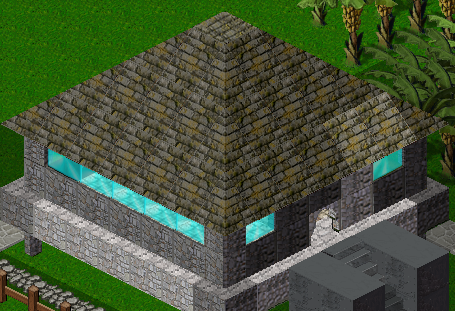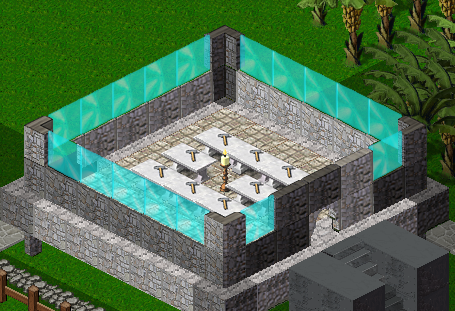 Also currently in there is a tweaked "clay roof". I took the bevel off of it so it's just like the other roofs. I didn't like the way the bevel looked on multilayer roofs.
If you'd like to request tweaks or alternatives (like, I can change the color of the bird in the bird cage) feel free to request it! If you're going to request something that's not already coded in to the game, that's fine...but you'll have to code it yourself, or ask one of the programming-savvy people! (They're quite helpful, you should have no trouble finding someone!
)
I added a potted banana tree. It's not coded. It's intended to work just like the regular potted plant, except it uses banana tree bushes instead of other bushes.

3/23:
Stained glass walls!